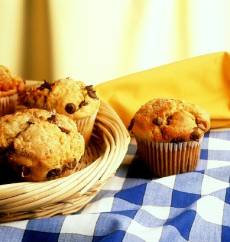 Ingredients:
6 tbsp. (3/4 stick/3 oz/85g) butter, softened
2/3 cup granulated sugar
1/4 cup milk
1 1/2 teaspoons baking powder
1 3/4 cup unsifted all-purpose flour
1 teaspoon vanilla extract
1 large egg
1 tbsp. instant coffee disolved in 2 tbsp. boiling water
1 tbsp. coffee flavored liqueur (optional)
3/4 cup semi-sweet chocolate chips
Instructions:
Preheat oven to 375 degrees F (190 C). Grease a 6-cup jumbo muffin pan.
In a large bowl, beat butter and sugar at medium speed of electric mixer until light and fluffy. Beat in egg, vanilla, dissolved coffee granules and coffee liqueur until blended. In medium bowl, combine flour, baking powder and salt. Add flour mixture to butter mixture alternately with milk, beating just until combined. Fold in chocolate chips. Divide batter among prepared muffin pan cups. Bake in preheated oven for 25 to 30 minutes or until centers spring back when lightly pressed. Serve warm or at room temperature.
Makes 6 jumbo muffins.
Source: DianasDesserts.com