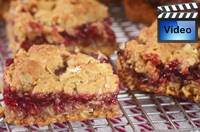 Resep : www.joyofbaking.com
Oatmeal Base:
1/2 cup (113 grams) unsalted butter, room temperature
1 cup (215 grams) light brown sugar
1 large egg
1 teaspoon pure vanilla extract
1 1/4 cups (175 grams) all purpose flour
1/2 teaspoon baking soda
1/4 teaspoon salt
2 cups (180 grams) old fashioned rolled oats, divided
Filling:
1 cup raspberry jam or preserves (homemade or store bought)
Preheat oven to 350 degrees F (177 degrees C) and place rack in center of oven. Butter (or use a non stick cooking spray) a 9 x 9 inch (23 x 23 cm) pan. Set aside.
Oatmeal Base: In the bowl of your electric mixer (or with a hand mixer), cream the butter and sugar until light and fluffy (about 2 - 3 minutes). Add the egg and vanilla extract and beat until incorporated. In a separate bowl whisk together the flour, baking soda, and salt. Add to the butter mixture and mix until well combined. Stir in 1 3/4 cups (155 grams) of the rolled oats. Press 2/3 of the dough into the bottom of the prepared pan.
Spread the raspberry jam (preserves) over the oatmeal base. To the remaining dough add the remaining 1/4 cup (25 grams) of rolled oats. Crumble this mixture evenly over the top of the raspberry jam. Bake for about 25 - 30 minutes or until nicely browned. Place on a wire rack to cool and then cut into squares.
Makes about 16 - 2 inch squares.
These are best if made the day before serving. Store leftovers in the refrigerator.