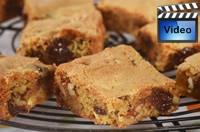 Source : Stephanie Jaworski (www.joyofbaking.com)
Blondies:
3/4 cup (75 grams) pecan halves, toasted and coarsely chopped
1/2 cup (113 grams) unsalted butter, melted and cooled3/4 cup plus 2 tablespoons (125 grams) all-purpose flour
1/4 teaspoon salt
1/4 teaspoon baking soda
1 large egg
3/4 cup packed (160 grams) light brown sugar
1 teaspoon pure vanilla extract
3.5 ounce (100 grams) bar of good quality white chocolate, coarsely chopped (I like Lindt) or 1/2 cup of white chocolate chips
Preheat oven to 350 degrees F (177 degrees C) and place the rack in the center of the oven. Butter, or spray with a non stick vegetable spray, an 8 x 8 inch (20 x 20 cm) square baking pan.
Place the pecans on a baking sheet and bake for 8 - 10 minutes or until brown and fragrant. Remove from oven, let cool, then chop coarsely.
Meanwhile, in a small saucepan, melt the butter. Remove from heat and let cool to room temperature.
In a bowl, whisk together the flour, salt, and baking soda.
In the bowl of your electric mixer (or with a hand mixer), beat the egg and brown sugar until light and frothy (2-3 minutes). Beat in the vanilla extract and then the melted butter. Scrape down the sides of the bowl then, on low speed, beat in the flour mixture until incorporated. Fold in the chopped pecans and chopped white chocolate.
Pour the batter into the prepared pan, smooth the top, and bake for about 25 - 30 minutes, or until the top of the brownies are dry, golden brown, and a toothpick inserted in the center comes out with a few moist crumbs. Remove from oven and place on a wire rack. Cool completely before cutting into squares.
Store, covered, for two to three days. Can freeze for longer storage.
Makes about 16 brownies.